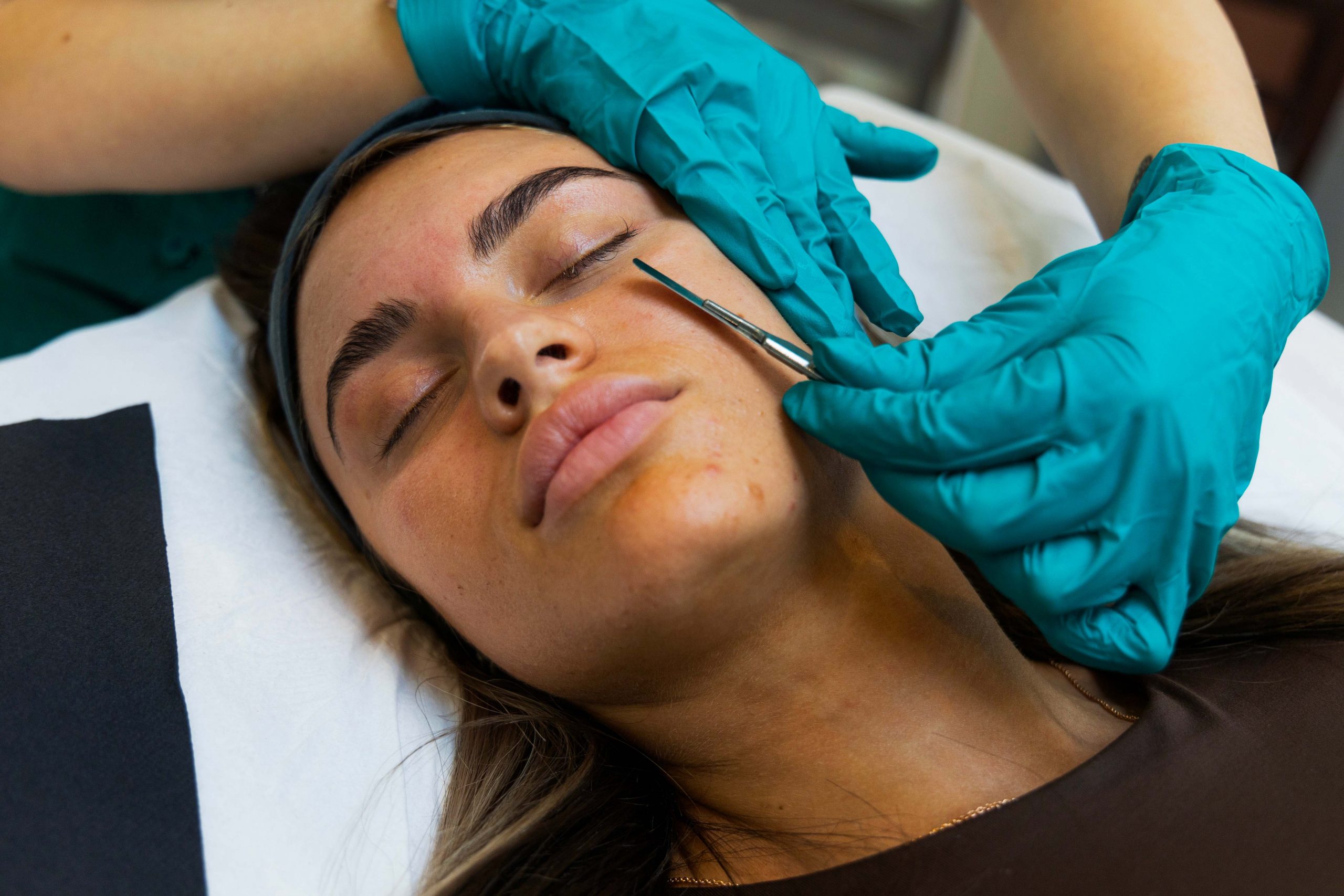 FOR YOUR SKIN HEALTH
Dermaplaning Treatment
Dermaplaning is a gentle form of manual skin exfoliation. Dead skin cells are gently, yet effectively removed from the face and neck which helps rid of impurities and any debris layering on the skin which clogs pores.

Without the layer of dead skin cells acting as a barrier, this means products can penetrate into the skin quicker allowing your skincare to work to its full potential. Makeup application goes on smoother and the overall appearance of your skin is improved.

We recommend this treatment every 4-6 weeks
Benefits & Results from Dermaplaning
Reduces appearance of fine lines
Helps to manage oil production
A healthy way to exfoliate and cleanse
Leaves the skin brighter and smoother
How does Dermaplaning work?
Process
Preparation &
Pre Care
Aftercare
Treatment Areas
Process
We use a handheld dermatome and surgical blade which gently scrapes over the skin, getting rid of any oil build, blackheads, dead skin, and vellus hair – better known as "peach fuzz." 
This treatment is completely painless and non-invasive.
Preparation &
Pre Care
Aftercare
Treatment Areas
Dermaplaning Treatments & Pricing
You can choose the individual treatment alone or select one of our treatment packages shown below…
Express Experiences to add on…
Why not select an express experience to enhance your treatment further!
Bespoke treatments made simple…
Genosys Soothing Bomb Sea Algae Mask
£5
Soothing, cooling, moisturising & firming
Genosys Intensive Repair Collagen Mask
£5
Skin rejuvenation & added hydration
Genosys Peptide Gel Sheet Mask
£8
Calming, cooling & hydrating
Scalp, Neck and Shoulder Massage
£10
With essential oils for 10mins
Healing Hands Massage
£10
Healing Hands Massage
Glycolic or Dermalogica Pro Peel 20/30mins
Plump & Define Lip Treatment
£10
For 10mins treatment
Lymph Drainage Massage
£10
For 10mins massage
Refresh, Lift & Tone Eye
£15
For 15 mins treatment
Clients regularly comment on their 1-1 experience at NEC. We always show our genuine care and compassion giving clients support from the moment they walk through the door. We pride ourselves on our clinical yet calming environment, which instantly makes all clients feel at ease.   
Using our certified, high quality products and showing our dedication – client satisfaction is always proven. Full aftercare is always given post treatment to enjoy at home, which includes our 5 Senses aftercare gift. With easy access and free parking, right outside, The Clinic is the perfect choice for anyone looking for exceptional services and results.
TREAT YOUR SKIN
It's About Experience
Here at NEC we are a team of experienced professionals providing advanced facial and aesthetics procedures. For a free consultation and chat please complete our form via the consultation button and we will be in touch as soon as possible, or you can select 'see our pricing' for a full treatment price list! Thankyou
Frequently Asked Questions
What is Dermaplaning?
Dermaplaning is a gentle form of manual exfoliation of the skin, we love this treatment and think it is the most effective exfoliating method. Dead skin cells are gently yet effectively removed from the face and neck which helps rid of impurities and debris layering on the skin clogging pores. Without the layer of dead skin cells getting in the way, it's easier for treatments and serums to penetrate your skin, this will help enhance the products you use post treatment.
What are the benefits of Dermaplaning?
Reducing the appearance of fine lines, evening skin tone and helping with the reduction of milia, blackheads, whiteheads and congestion associated with breakouts. A unique benefit of dermaplaning is the temporary removal of vellus hair, this is the tiny fine hair found on the face and neck. The hair will grow back exactly the same colour and thickness as it was previously - because you are removing the dead layer of skin and vellus hair, your skin will appear much brighter than you've experienced past. It is a Healthy way to exfoliate and cleanse skin with no downtime.
How is Dermaplaning performed?
Using a handheld dermatome and a surgical blade which gently scrapes over the skin, this treatment is completely painless and non-invasive.
I have acne, can I still get this treatment?
If you suffer from acne skin - dermaplane is not recommended as acne begins in the hair follicle and when the hair is removed it can aggravate or stimulate more acne breakouts. Please speak to us for other treatments that may help you.
Please note that this treatment does help with acne scarring.
Are there any side effects?
Immediately after the treatment the skin may seem red and flushed more than usual this is because the blood flow has been stimulated, this will usually subside after a few hours.