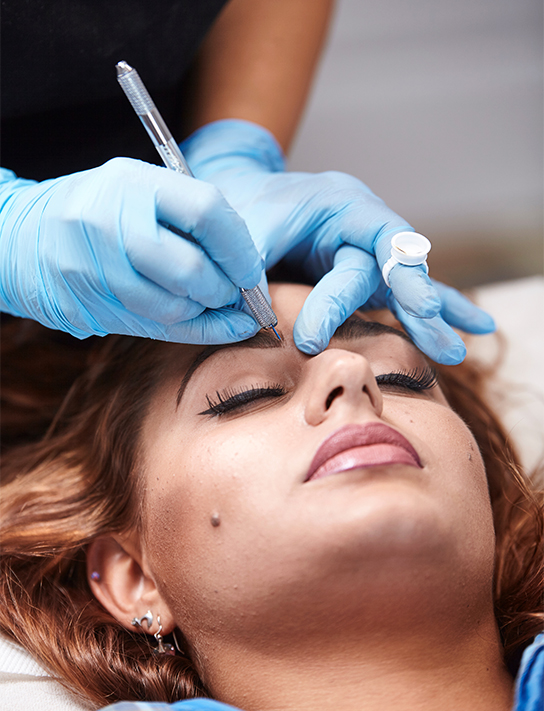 Microblading gives cosmetic makeup a modern twist, although this method has been around for centuries it has only gained popularity over the last few years. The technique consists of implanting fine hair strokes with a handheld Microblading tool, this look is super natural and is suitable for anyone who wants to improve their eyebrow shape, colour and symmetry.
Benefits
Benefits of this treatment is that It enhances your natural brow giving the illusion of real hair strokes which settle to your skin leaving a fabulous natural brow.
Contraindications
If you are pregnant you won't be able to get this treatment done until post pregnancy, there may be other conditions to getting the treatment
Possible side effects
You will normally have 40% colour loss after your eyebrows have healed and the initial, immediate look will be darker and thicker, this will change within 7-10 days.
Results
Immediately after, brows may seem darker and thicker looking. This will fade as the brows heal, they may have some redness, but this will go down in a few hours. The results are immediate and noticeable, post treatment you will be left with new eyebrows to then continue with aftercare.
Brow lamination is a process of restructuring the brow hairs to keep them in a desired shape. This gives a full and fluffy look enhancing your already brow shape; adding texture and tones back into your brows!
How long does it take
The first initial brow Lamination treatment takes 30-40 minutes and this process is advised to be kept on top of with a recurring appointment every 6-8 weeks to maintain that newly defined fluffy brow!
Eyebrow tinting is a treatment where a pigmented dye is directly applied to the hair to dye that area a desired shade. This can help to disguise any sparse areas to your brows and simply make them look more defined.
How long does it take
Brow tinting takes 10-15 minutes, the tinting can last from 3-6 weeks depending on the client. A recurring appointment is advised.
Eyebrow shaping is the removal of stray hairs either by plucking or waxing. This will allow you to regain your natural brow shape without having stray uneven hairs getting in the way!
How long does it take
Our brow shaping treatment takes around 20 minutes.  We take time and effort to perfect and map your natural shape to then remove any hairs which do not need to be there!
Depending on your hair cycle this treatment may need to be done weekly or even monthly it really does vary! As each treatment progresses, we can come to understand your hair growth and tailor each treatment to you!
(Waxing of the hair is an option)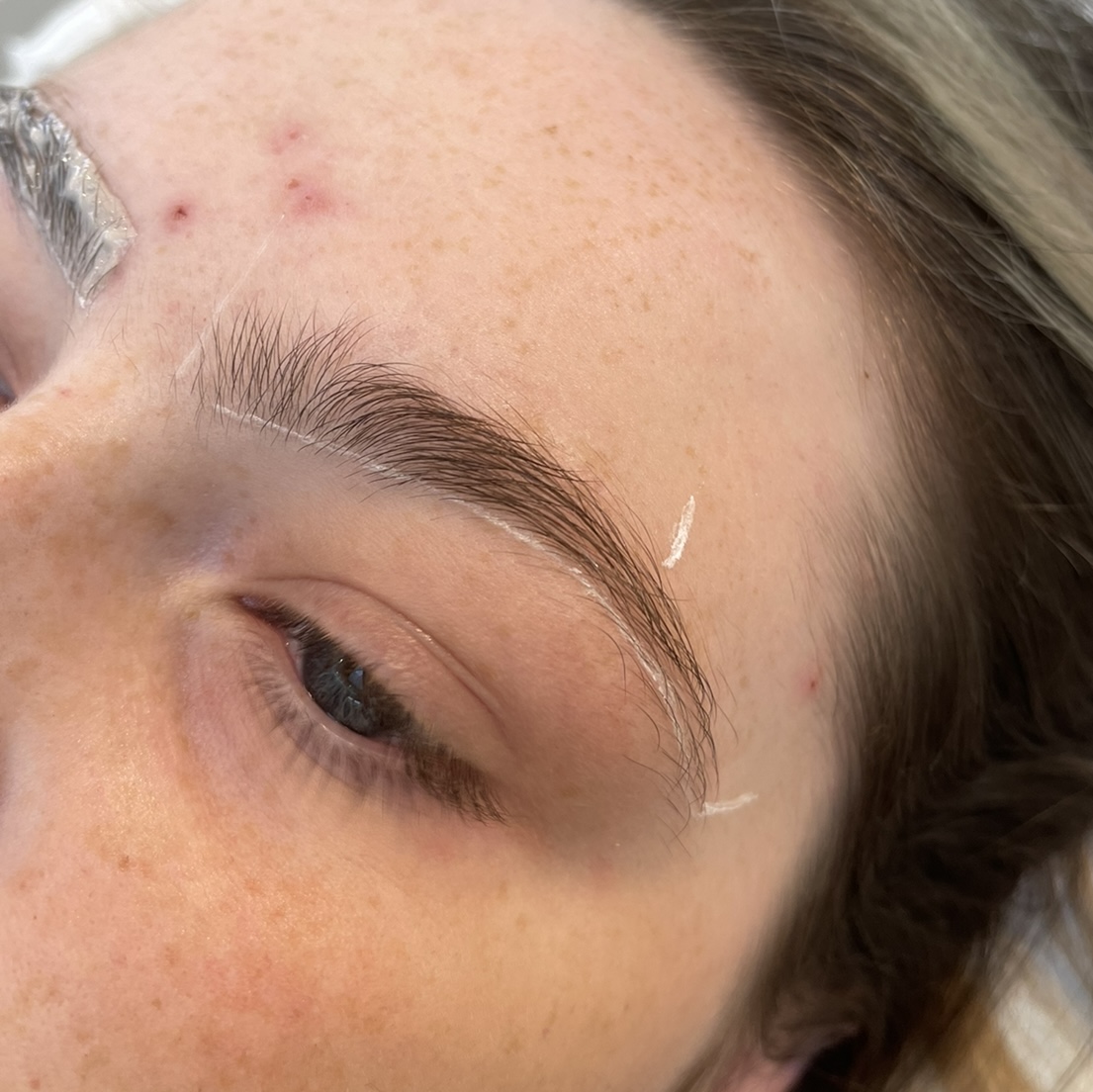 Benefits & Results from Brow Treatments
Altering eyebrow hair colour
How does a Microblading treatment work?
Process
Preparation &
Pre Care
Be aware
Aftercare
Treatment Areas
Process
Each of our brow treatments vary in process! All of our brow services offer different benefits and outcomes.
Preparation &
Pre Care
Be aware
Aftercare
Treatment Areas
Brow Treatments & Pricing
You can choose the individual treatment alone or select one of our treatment packages shown below…
Express Experiences to add on…
Why not select an express experience to enhance your treatment further!
Bespoke treatments made simple…
Genosys Soothing Bomb Sea Algae Mask
£5
soothing, cooling, moisturising & firming
Genosys Intensive Repair Collagen Mask
£5
Skin rejuvenation & added hydration
Genosys Peptide Gel Sheet Mask
£8
calming, cooling & hydrating
Clients regularly comment on their 1-1 experience at NEC. We always show our genuine care and compassion giving clients support from the moment they walk through the door. We pride ourselves on our clinical yet calming environment, which instantly makes all clients feel at ease.   
Using our certified, high quality products and showing our dedication – client satisfaction is always proven. Full aftercare is always given post treatment to enjoy at home, which includes our 5 Senses aftercare gift. With easy access and free parking, right outside, The Clinic is the perfect choice for anyone looking for exceptional services and results.
TREAT YOUR SKIN
It's About Experience
Here at NEC we are a team of experienced professionals providing advanced facial and aesthetics procedures. For a free consultation and chat please complete our form via the consultation button and we will be in touch as soon as possible, or you can select 'see our pricing' for a full treatment price list! Thankyou
Frequently Asked Questions
How long does a Microblading treatment take?
The Microblading treatment itself takes 2 hours, however the process usually takes 6-8 weeks. This is because it consists of two appointments, your first initial treatment and your touch up 4-6 weeks after.
How long will my new eyebrows last?
The pigment used in Microblading is semi-permanent and can last between 1-3 years. The pigment will begin to fade within 12 months. In order to keep your brows looking fresh, a touch up is recommended every 12 months to 24 months' maximum.
How long is the recovery or healing time?
Your brows should heal immediately after your Microblading procedure, over the next few days' scabs will begin to form, this may make your brows appear darker than they are, however this is not an accurate indication of the finished look, your brow colour will fade 30-50% as the scabs heal and fall off within the 7 to 10-day timeframe. Do not pick your scabs, the pigment is within the scab and by picking it you will prematurely remove the pigment.
Can I have my brows Microbladed if I'm pregnant?
No you cannot have this treatment done if you are pregnant in case of infection.
Can you Microblade over an existing brow tattoo?
Microblading can be done over an existing brow tattoo, however the old tattoo must be significantly faded for the hair strokes to show through and look natural. Please advise if you have an existing tattoo.